Dalhart to DFW it doesn't have to be boring

View Dalhart to DFW in a larger map
I recently ran across the link to this website over on Sport Touring.net and thought it was a really good idea.  But then on my first visit, I read through some of the rules and it sort of sounded like they were wanting  each route entry to encompass a single numbered road.  Now, that may work well in areas of the country where a single numbered road goes on for many (sometimes hundreds of) miles through hills and forests with lots of great scenery and twisty roads to captivate the driving enthusiast, but here in the Texas Panhandle, we don't have a lot of roads that go on for miles and miles save for the straight, flat and boring slabs, (four lanes of boredom; like Interstates 40 or 27 or US-287).  What we do have however, are state roads (SRs) and farm to market roads (FMs) that offer a pretty good sprinkling of twisty roads with some scenery unique to the Panhandle.  Most of these narrow two-lane roads will take you through quaint little towns offering up local diners and cafes serving authentic home cooking as opposed to the same old slapped together burger or taco at the big national chain dives you see everywhere you go on the slab.   You will also find great little pawn and antique shops or historic gas stations in most of them.
Well, I really enjoy riding and wanted to contribute to the site so I wrote to the admin here explaining the uniqueness of our area an how I thought I could add a lot.  But if I submitted single numbered roads as a route to ride/drive,  some of them would only be 10 or 15 miles long and sometimes very hard to find without including considerably more roads.  He agreed that some areas of the country might need special consideration for getting from point A to point B by way of more than one road in order to stay off the boring four-lanes.  I have given a lot of thought about how to approach this task and am about to give it my first (maybe not best) shot with an alternative route from Dalhart, TX to the DFW metro area while spending as little time as possible on any of the major hiways that most folks seem to want to take because they believe that the Panhandle is only straight, flat and boring.  Of course if you stay on those big roads, that last sentiment will always be true, but if you dare to venture off onto the FM and state roads you will find out otherwise.
People passing though Dalhart and heading for DFW are generally coming out of NM or CO and just wanting to cross the Panhandle with as little distraction as possible.  The normal way to do that from Dalhart is to just stay on US-87 until it meets US-287 in Dumas and then it's pedal to the metal all the way to Decatur 385 miles later. (Decatur is sort of a cross-roads launching pad to go either into Ft. Worth, Arlington or Dallas).  But if you want to see some new sights, visit and antique shop or two, have some home cooking, see maybe some wildlife and take a curve or two along the way, try this route.
About 14 miles out of Dalhart on US-87 is the small town of Hartley.  That is where you can turn south on US-385; the road quickly gets into some rolling hills and gentle curves.  Approximately 15 miles south of Hartley, is the small town of Channing where you can get a pretty good burger and piece of homemade apple pie at the Cowgirl Cafe'.   After the fine dining, one can drive a few blocks to the NE and have a look at the original headquarters house of the XIT Ranch.  And just a few blocks south of there is an old Methodist church that's worth stopping at for pictures, if you are into architecture from the past.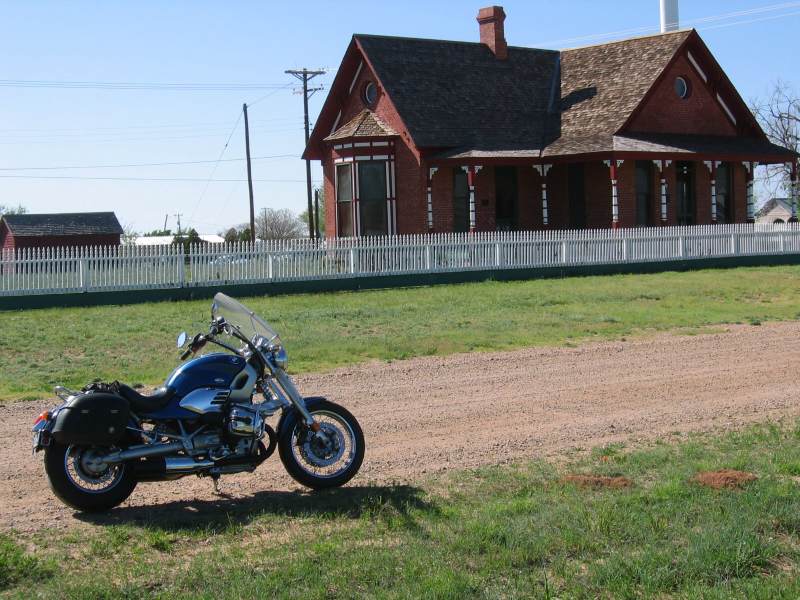 Proceeding south out of Channing on 385 for another 12 miles will bring you the brick gateway on the east side of the road bearing the name "Cal Farley's Boys Ranch"; founded in 1939 by Cal Farley to provide structured environment in an effort to help troubled boys in need of a productive direction in life.  About a mile south of Boys Ranch, is a picnic area near the river bottom with several covered picnic tables shaded by large cottonwood trees that make for a great place to stop for a nap, sack lunch or just a short break.  Staying on this route, 385 will come upon FM-1061 at saddleback rock (on your right) about a mile south of the picnic area.  You'll want to  take FM-1061 which will wind its way up and down hills with numerous fun curves covering the 30 miles on to Amarillo.
Once at the intersection of FM-1061 and loop 335 around Amarillo, one can choose to take either direction around Amarillo (south loop or north, then east) until reaching Interstate 40.  If it were me, I'd be taking the north loop around to I-40 at which point you can detour back to west about a mile and take the challenge of eating a 72 oz. steak with all the trimmings in under an hour at the famed Big Texan Steak Ranch.  If you clean your plate in less than 60 minutes, the meal is free!
To stay on track though, you need to proceed east on I-40 to FM-1258 (Pullman Road) and head south.  1258 isn't really so much  a twisty road as it is a series of straight shots of three to four miles with a nice 90* curve followed by another three to four miles of straight to the next curve. (by some standards in the Panhandle that IS a twisty road).  It eventually meets up with state road (SR) 207 some 30 miles after leaving I-40.  As a side note here, and for most of these roads; it wasn't that long ago that I came very close to bagging a 12 point mule deer buck with my R1200C, not the most fun I've ever had, but it did get me wide awake for the remainder of our ride that day.
At SR-207 one might think they have found the end of the world as far as challenging twisty roads go, but just 6 miles south of this intersection the real fun begins.  That is where 207 descends into the south-eastern tip of Palo Duro Canyon. This 10-mile stretch of 207 offers some of the most scenic views of the entire trip across the Panhandle and there is a very nice scenic overlook & picnic area on the southern rim with covered picnic tables and plenty of parking.   But don't let the turn into the overlook slip by, as it is situated just past an area where the road passes through a couple of sheer rock walls about 100 feet up on either side of the road.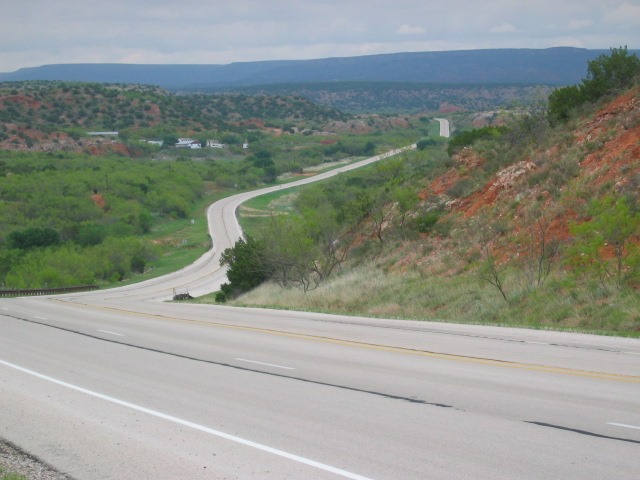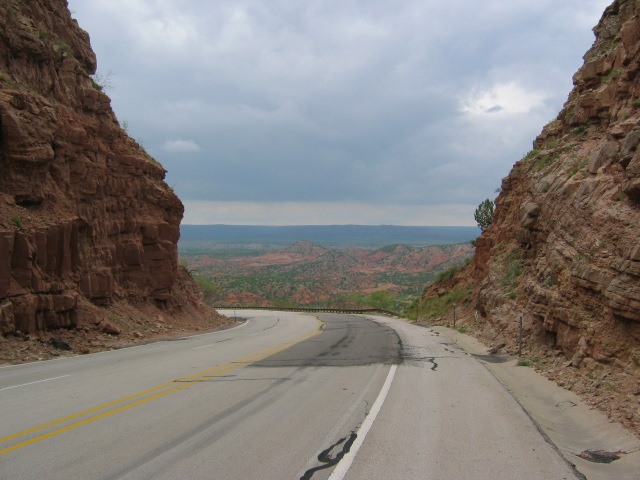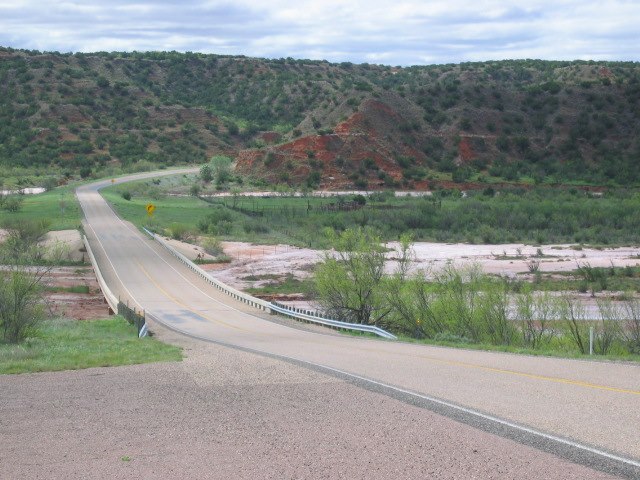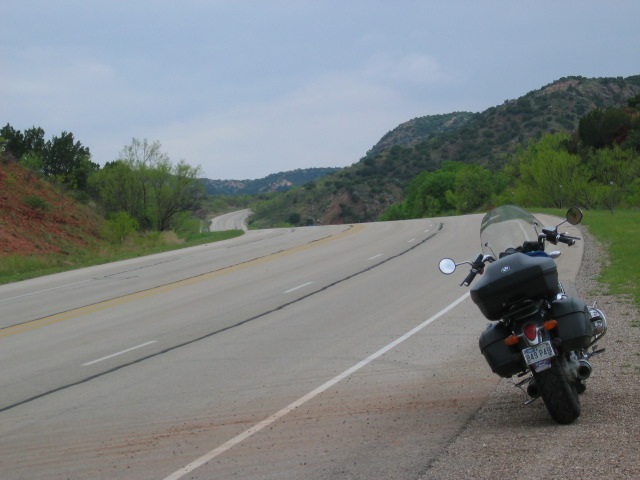 Once you've caught your breath from the trek across the canyon, 207 continues on south toward the town of Silverton.  But between the canyon and SR-86 there are a few more of those 90* turns with straight roads in between them.  There is also a small canyon to cross below the dam at Lake McKenzie.  That couple of miles has some pretty impressive rock/sandstone/shale formations and an old windmill with sod pump house beside it worthy of a few frames in the camera.  As a precautionary note here; be very watchful for wild critters as you approach this last canyon as about 3 out of 4 trips through there I see either wild hogs or deer near the northern rim. (there is one of those tall, red and white communications towers on your right about a half mile from the north rim).

Once you are out of the canyon at McKenzie, the road levels off due south for a while until it meets SR-86 where you will want to turn left (east) and make the short jog into Silverton.  There is an Allsups convenience store there as about the only gas stop in town.
Staying on 86 continue to the east about 7 miles to a fork where you can either stay on 86 to Turkey or veer left onto SR-256.  For the sake of leading you onto one of the twistiest roads the Panhandle has to offer, I'd recommend taking 256.  Travel another 7 miles beyond that fork, and there is another pretty nice scenic overlook with nice covered concrete picnic tables and a great view of the valley below including the road you are sure to have a ball on.  CAUTION: Be sure to keep a close watch on the road surface ahead of you on these curves with "suggested" speed limits of 30 to 35mph as there WILL be the occasional patch of "cattle truck sludge" which is slicker than – well, ice I guess which ,in these parts, is commonly considered as slick as; cattle truck sludge.   The really twisty part only lasts for a few miles, but you'd swear you were somewhere in the mountains if you didn't know better.
After that few miles of fairly tight twists and turns, the road settles into some gentle hills and smooth sweepers through a pretty thick growth of mesquite and cedars on either side.  You'll typically see at least a wild hog or two here and possibly some bobcats and deer.  About 12 miles from that scenic overlook, 256 runs concurrent with SR-70.  At that intersection is where you will want to make a hard right (almost double back) on 70 that will take you through more rolling hills and some very scenic areas with a non-stop curves until you reach SR-86 again some 13 miles later.
At 86 the path to the next gas stop and next bunch of fun curves is to head south for about a mile into Turkey, (home of western swing legend, Bob Wills ).  In Turkey you have another small convenience store for fueling, snacks and drinks.  There is also a small cafe just a few blocks from that gas stop, but I don't currently recall the name of it.  Last time I went through there, a couple of buddies and I ate at that cafe and it was pretty darn good food.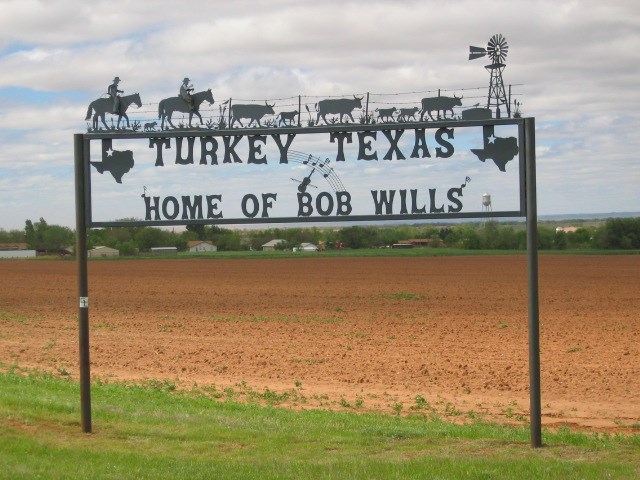 Leaving Turkey to the south on 70 will take you to the next turn to the east on FM-656 about another mile south of town.  This NW end of 656 starts out with 9 or 10 of those 90* curves separated by a few miles of straight roads generally bounded by cotton fields.  If the winds are howling, that loose cotton soil can reduce visibility to zero making very hard to navigate the curves and see even more cattle truck sludge as well as the random pile of some crop (wheat or maze) that has spilled out of a truck bound for the storage elevators.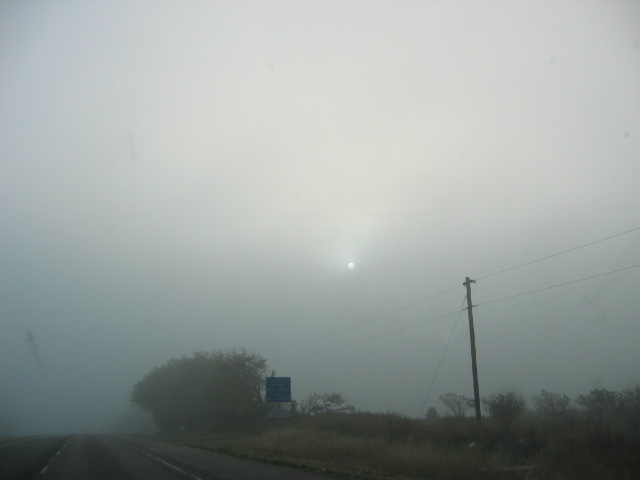 Approximately 8 miles after that first 90* curve 656 will give way to another 12 mile stretch of rolling hills and smooth sweepers as it crosses the breaks and a river bed or two.
This segment of road gets you to the intersection of 656 and FM-94 where you will have the pleasure of riding one of the most enjoyable stretches of road in the Panhandle.  The 25 miles of FM-94 from Northfield to Matador is not a technically challenging road, but it is a series of big sweepers through the breaks that, for me, is just a whole lot of fun.  Every time I get near this area, I try to make it across this part of 94 at least once and sometimes more during a day ride.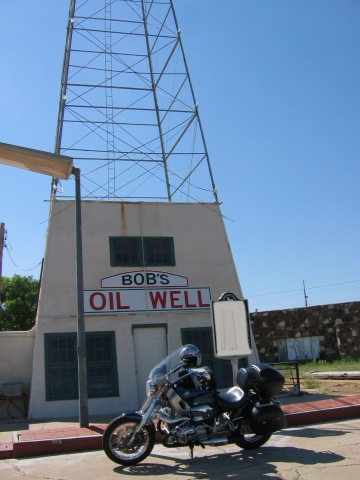 94 can be followed all the way into Matador where you can get gas and/or refreshments at a couple of convenience stores at the intersection with US-62/70 or you can bear east on 62/70 into Paducah and then stay on 70 until you are about 6.5 miles past Crowell.  That 70-mile stretch of US-70 is very nice pavement that makes for a leisurely drive up and down hills with more smooth sweepers and scenery worth taking some time to soak in.  East of Crowell, FM-267 is the next turn you will need to watch for to the south.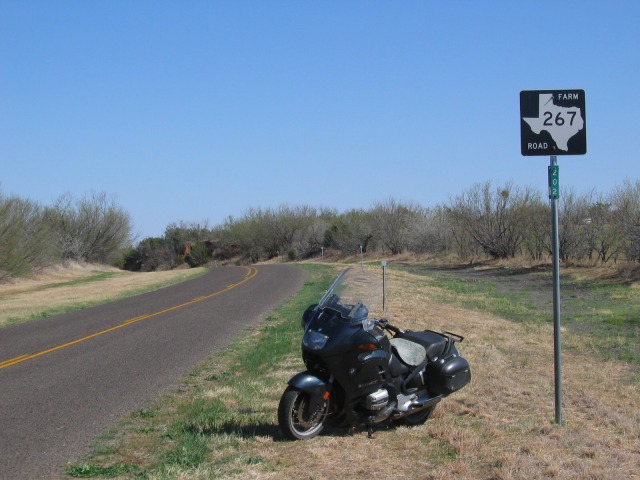 It is fairly straight for about 7 miles then begins to give way to more rolling hills and sweepers on a narrow 2-lane.  Approximately 9 miles south of 70, FM-1919 head off to the SE toward Seymore where the road of choice should be SR-114 that will get you to Jacksboro.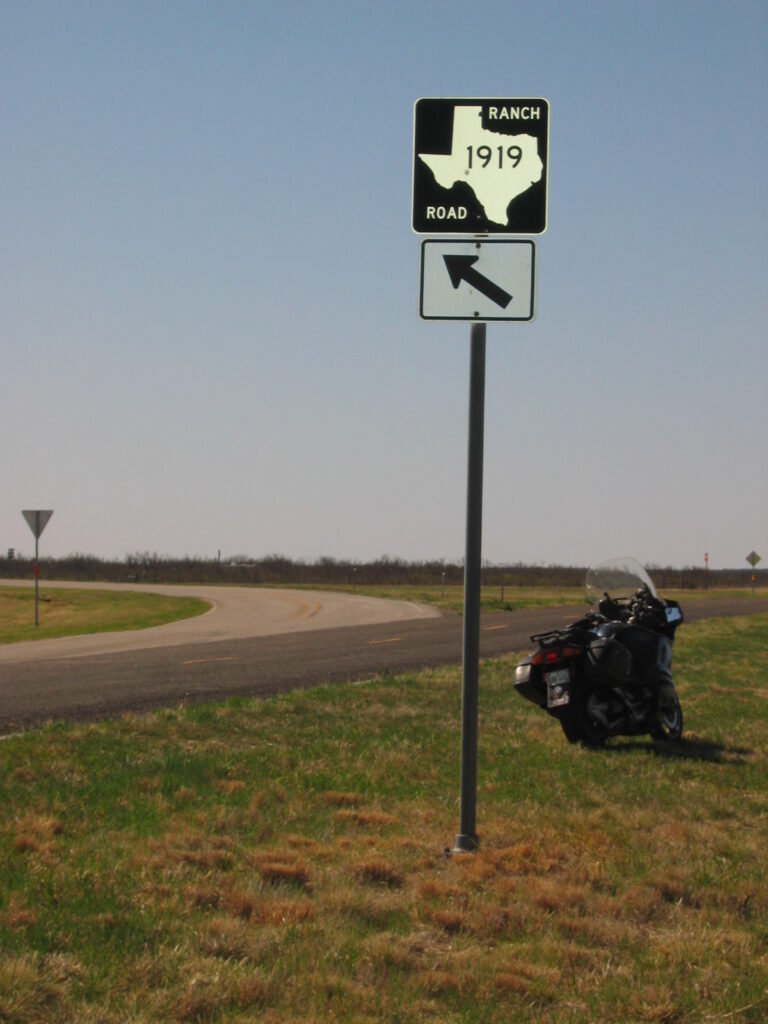 A few miles south of Jacksboro, take US-380 east to Decatur.  This last 140-mile segment of three roads (FM-1919, SR-114, and US-380), I have only ridden once about  six years ago so all I can recall is that they are more of the gentle rolling hills sprinkled with a fair number of sweepers and a pretty serene bit of scenery to take in along the way.
So; there you have an alternate route for getting from Dalhart to the DFW area.  Granted, It adds about 80 miles to the trip, but well worth it if don't want to be bored to tears on the slab.  Now there's a term I've heard a lot since returning to riding again in April of 2000 after nearly 20 years away from bikes.  Everywhere I go, either in cyber space or in person, I hear/read the term "slab".  During the course of writing this dialog I finally figured out what it really means; SLAB = Straight-Level- and Boring.
I hope I haven't overstepped the boundaries or intent of this website and plan to add more details of this route (and many others in the Panhandle) if/when I get a chance to take it again with a more attentive eye turned toward the things to see, places to eat, refuel and take pictures.  Until next time, ride safe and smart (RSS) everyone!
Here are the driving directions from MS Streets & Trips 2010.
Summary:  467.3 miles (6 hours, 56 minutes)
| | | | | |
| --- | --- | --- | --- | --- |
| Time | Mile | Instruction | For | Toward |
| 9:00 AM | 0.0 | Depart near Dalhart on US-385 [US-87] (South-East) | 13.3 mi | |
| 9:11 AM | 13.3 | Keep RIGHT to stay on US-385 | 0.2 mi | US-385 / Channing |
| 9:11 AM | 13.5 | Turn LEFT (East) onto Local road(s) | 0.2 mi | |
| 9:12 AM | 13.8 | At near Hartley, turn LEFT to stay on Local road(s) | 0.2 mi | |
| 9:13 AM | 14.0 | Turn LEFT (South) onto US-385 | 14.5 mi | |
| 9:26 AM | 28.5 | At Channing, stay on US-385 [Rock Island Ave] (South) | 11.5 mi | |
| 9:36 AM | 40.0 | At near Tascosa, stay on US-385 (South) | 1.2 mi | |
| 9:37 AM | 41.2 | At near Boys Ranch, stay on US-385 (South) | 1.1 mi | |
| 9:38 AM | 42.3 | At near Boys Ranch, turn LEFT (East) onto FM-1061 | 27.2 mi | |
| 10:01 AM | 69.4 | Keep STRAIGHT onto FM-1061 [Tascosa Rd] | 0.4 mi | |
| 10:01 AM | 69.8 | Keep STRAIGHT onto FM-1061 | 3.0 mi | |
| 10:04 AM | 72.8 | At FM-1061, keep LEFT to stay on FM-1061 | 120 yds | |
| 10:04 AM | 72.9 | Take Ramp (LEFT) onto SR-335 Loop | 2.8 mi | TX-335-Loop |
| 10:07 AM | 75.7 | Take Ramp (RIGHT) onto SR-335 Loop [W St Francis Ave] | 6.1 mi | FM-1719 / Western St |
| 10:13 AM | 81.8 | Take Ramp (RIGHT) onto SR-335 Loop [E St Francis Ave] | 7.2 mi | Eastern St |
| 10:19 AM | 88.9 | Turn LEFT (East) onto Interstate Dr E | 54 yds | |
| 10:19 AM | 89.0 | Road name changes to E I-40 | 0.1 mi | |
| 10:19 AM | 89.1 | Take Ramp (LEFT) onto I-40 [US-287] | 1.6 mi | I-40 / US-287 |
| 10:20 AM | 90.7 | At exit 77, take Ramp (RIGHT) onto E I-40 | 0.3 mi | FM-1258 / Pullman Rd |
| 10:21 AM | 91.0 | Turn RIGHT (South) onto FM-1258 [S Pullman Rd] | 0.1 mi | |
| 10:21 AM | 91.1 | At FM-1258, stay on FM-1258 [S Pullman Rd] (South) | 0.8 mi | |
| 10:22 AM | 91.9 | Keep STRAIGHT onto FM-1258 [Pullman Rd] | 7.7 mi | |
| 10:29 AM | 99.6 | Keep STRAIGHT onto FM-1258 | 7.1 mi | |
| 10:35 AM | 106.7 | Keep STRAIGHT onto FM-1258 [Goathead Rd] | 0.8 mi | |
| 10:36 AM | 107.5 | Keep STRAIGHT onto FM-1258 | 76 yds | |
| 10:36 AM | 107.5 | At FM-1258, stay on FM-1258 (South-East) | 16.1 mi | |
| 10:49 AM | 123.6 | At near Claude, turn RIGHT (South) onto SR-207 | 5.5 mi | |
| 10:54 AM | 129.2 | At near Paloduro, stay on SR-207 (South) | 10.3 mi | |
| 11:03 AM | 139.4 | At near Wayside, stay on SR-207 (South) | 16.3 mi | |
| 11:16 AM | 155.7 | At near Rock Creek, stay on SR-207 (South) | 7.2 mi | |
| 11:22 AM | 162.9 | At SR-86, stay on SR-207 [SR-86] (East) | 4.0 mi | |
| 11:26 AM | 166.9 | Keep STRAIGHT onto SR-256 [SR-86] | 3.5 mi | |
| 11:30 AM | 170.4 | At near Silverton, stay on SR-256 (East) | 7.1 mi | |
| 11:36 AM | 177.5 | At near Quitaque, stay on SR-256 (East) | 12.3 mi | |
| 11:46 AM | 189.8 | At near South Brice, turn LEFT (South) onto SR-70 | 12.5 mi | |
| 11:57 AM | 202.3 | At near Turkey, stay on SR-70 [SR-86] (South) | 0.8 mi | |
| 11:58 AM | 203.1 | At Turkey, stay on SR-70 [SR-86] (South) | 0.8 mi | |
| 11:59 AM | 203.9 | At near Turkey, turn LEFT (East) onto FM-656 | 1.4 mi | |
| 12:00 PM | 205.3 | At near Turkey, stay on FM-656 (East) | 7.4 mi | |
| 12:06 PM | 212.7 | At near Turkey, stay on FM-656 (South-East) | 12.3 mi | |
| 12:16 PM | 225.0 | At Northfield, turn RIGHT (South) onto FM-94 | 23.5 mi | |
| 12:36 PM | 248.5 | Bear LEFT (South) onto FM-1380 | 1.1 mi | |
| 12:38 PM | 249.6 | At near Matador, turn LEFT (East) onto US-62 [US-70] | 28.4 mi | |
| 1:03 PM | 278.0 | At US-83, keep STRAIGHT onto US-70 [Easly St] | 36.3 mi | |
| 1:34 PM | 314.3 | At Crowell, stay on US-70 [E Commerce St] (East) | 6.5 mi | |
| 1:40 PM | 320.8 | At near Thalia, turn RIGHT (South) onto FM-267 | 8.5 mi | |
| 1:47 PM | 329.2 | At near Thalia, turn LEFT (East) onto Local road(s) | 32 yds | |
| 1:47 PM | 329.3 | Turn RIGHT (South) onto FM-1919 | 27.8 mi | |
| 2:11 PM | 357.1 | Turn RIGHT (South-West) onto US-183 [US-277] | 1.2 mi | |
| 2:14 PM | 358.3 | At Seymour, stay on US-183 [US-277] (South) | 0.5 mi | |
| 2:15 PM | 358.8 | Turn LEFT (East) onto SR-114 [E Ingram St] | 22.2 mi | |
| 2:35 PM | 381.0 | Keep STRAIGHT onto FM-210 [SR-114] | 0.1 mi | |
| 2:35 PM | 381.1 | Keep STRAIGHT onto SR-114 [S Hwy 114] | 10.0 mi | |
| 2:43 PM | 391.1 | Keep STRAIGHT onto FM-2178 [SR-114] | 0.3 mi | |
| 2:43 PM | 391.4 | Keep STRAIGHT onto SR-114 [W Main St] | 25.9 mi | |
| 3:08 PM | 417.3 | Keep STRAIGHT onto FM-1191 [SR-114] | 0.3 mi | |
| 3:08 PM | 417.5 | Keep STRAIGHT onto SR-114 | 6.2 mi | |
| 3:13 PM | 423.7 | Merge onto US-281 [SR-114] | 7.6 mi | |
| 3:21 PM | 431.3 | At near Jacksboro, stay on US-281 [US-380] (South) | 2.3 mi | |
| 3:24 PM | 433.6 | Bear LEFT (East) onto US-380 [SR-114] | 21 yds | US-281 / US-380 / Bridgeport / Dallas |
| 3:24 PM | 433.6 | At US-281, Jacksboro, TX 76458, stay on US-380 [SR-114] (East) | 33.6 mi | |
| 3:56 PM | 467.3 | Arrive near Decatur | | |