About and How To
Hi and welcome to Twistypedia.
This site was started because although there are some great sites out there for great roads (Pashnit to name a really good one) they are almost always the work of one person and usually either only cover a specific geographic region or become outdated. This site hopes to change that by allowing the pages to be written and updated by anyone who registers on the site. Our goal here is to have oustanding photography and current information about the best roads to ride or drive in the world.
Now, for a limited time, if you create or substantially update an existing road page, you'll get a free vinyl sticker for your bike or car! Be sure and add your mailing address to your user profile, or just message us through the contact form!
Of course, since we're using the wiki-style honor system for editing pages, there's a few rules.
The Rules:
Please don't create a new page for a road that already has one.

Edit the existing page instead.

No really, go ahead. You can even add your name to the top! Long roads can be broken up into sections by geography if needed (ala Route 66). Shorter roads may be grouped into trip routes, so long as they are not duplicated elsewhere.
Only roads that are exhilarating to ride or drive should be entered
Whatever text you write should be your own. Please do not copy/paste from other sites (unless it's your site)
You need to own any photos you upload or embed
If you are editing an exiting page, please take a moment to add some revision notes to the Revision Information field
If you replace or update someone else's photos or copy, please be sure your new stuff is better
No vulgar, gross, wreck, deadguy, or adult photos
The max photo size for this site is 1024px wide. Any uploaded photos will automagically be resized. However, photos around 700px wide look just fine and work well
Zero politics, religion, flaming, or adult content – you will be mercilessly banned
NO SPAM
This site is for both car guys and motorcyclists. You can use the words "cager" and "squid" if you must, but it will be heavily frowned upon. This isn't the place to vent about how a certain slice of the population "ruins" a road. Play nice with each other; here and out on the roads!
If you would like to discuss these rules please contact us and we'll see what we can do better.
How to add and organize pages:
First things first: Register for an account so you can edit or ad pages. Now you're ready to go!
Ok, how it works: This site is based on the WordPress CMS and we're using their Page content type for the road pages. Road pages are organized in a logical heirarchal structure. The basic structure is this:
Country / State / Road
…for example:
USA / California / Road
Let's get started!
Login to the site admin.
Click on Pages in the left hand column.
Click the add new link at the top of the page.
Use the Visual/HTML editor to create your page using the suggested formats below. Details on how to add media like maps, photos, and videos are below as well.
If you're creating a road page, be sure and save location info for the page. (Please do not add location information for Countries or States, it just adds unneeded tabs to the map).
Select the appropriate Parent Page in the Page Attributes box. If your state or country doesn't have a page yet, you can add one, or, please send us a message and we'll create one. Adding state or country pages to the main nav can be tricky so contact us through the form and we'll make sure it's added.
Click the Update button.
Suggested formats for pages:
At the top we'd like to see a quick intro on why this road should be experienced, where it goes, best season to visit, etc
Add photos to show key features of the road or spots along the road that should not be missed
Add a Map to show where the road is. Preferable only highlight the part worth visiting
Add any advisories; road closures etc
How to add embedded photos or video (link to externally-hosted photos or videos):
Try out WordPress's new shortcodes, or…
Simply grab the embed code from YouTube, Vimeo, Flickr, or other hosting site and paste inline into the HTML editor as with Google Maps above.
How to upload photos or videos:
(Note that you can also embed media, see below). Position the cursor in the area of the page where you want the media to appear. Click the Add an Image or Add a Video links at the top of the editor bar.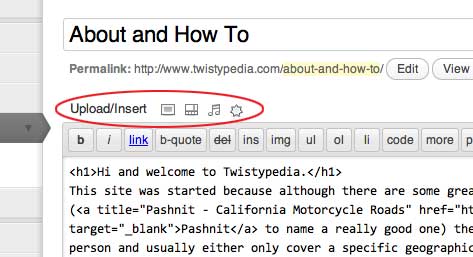 Browse your hard drive for the media to upload. Adjust the settings and click insert in post button.


How to add a Google Map:
First, of course, create your map using whatever the current method Google decides to put in place is. Then…get ready to export! Click on the gear icon in the bottom right of the screen and select Share or embed map.
Then…click on the Embed map tab, select Large for your size, then…
Copy the <iframe> code from the Google Maps page. Click the Text tab at the top right of the page editor toolbar. Paste the link where you'd like it to appear on the page.
How to add Road Location Information:
If you'd like to add a locator "pin" to our main road map you can do so by adding some location information in the Location section of the editor that can be found way, way down the page.
Step 1 is to type in the place you're trying to find in the Find a new location search box at the top of the form. Just hit return on your keyboard when you're done typing and a pin should appear on the map.
Step two is to then name the location and save it by using the form at the bottom of the map. Type a name for the place in the Saved Name text field and then hit the save button on the very bottom right of the form.
Thats it! Your road will now appear on all the appropriate maps on the site.
Personal Blogs or Ride Reports:
This site can also be used for personal blogs or ride reports. If you don't want to bother setting up your own site, just use this one! This is a new functionality of the site (as of May 2013) so you'll need to send us a note first so we can set up with the correct permissions. We'll also create your own post category for you so finding and sharing your posts will be easy.
If you don't like the blog format and still need a place to post stuff, you can also use our Forums to post whatever you'd like. Just try to keep it civil.
Privacy Policy:
Click here to see our privacy policy.